No Borders Community Voices choir:
Ana Maria Cruz Valderama
Ashelita Shellard
Aron Spector
Carmel Whittle
Carol Howard Donati
Celinie Russell
Debbie Rubin
Ella Heyder
Fiona Marshall
Hasana Birk
Heather Farrow
Jan Teevan
Joerg Esleben
Jules Chan
No Borders Community Voices:

Grandmother:
Director:
Composer, Pianist:
Guest Soloist:
Soloist:
Section Leaders:
Laura Margita
Marian de Vries
Monique Brault
Norma McNaughton
Patricia Reynolds
Phyllis Kessler
Rob Ryan
Sonia Howard

Drummers/Singers:
Carmel Whittle
Heather Wiggs
Patsea Griffin
Theo Paradis




Louise Garrow
Chris Peacock
Beverley McKiver
Nicole Joy-Fraser
Carmel Whittle
Marian de Vries
Patricia Reynolds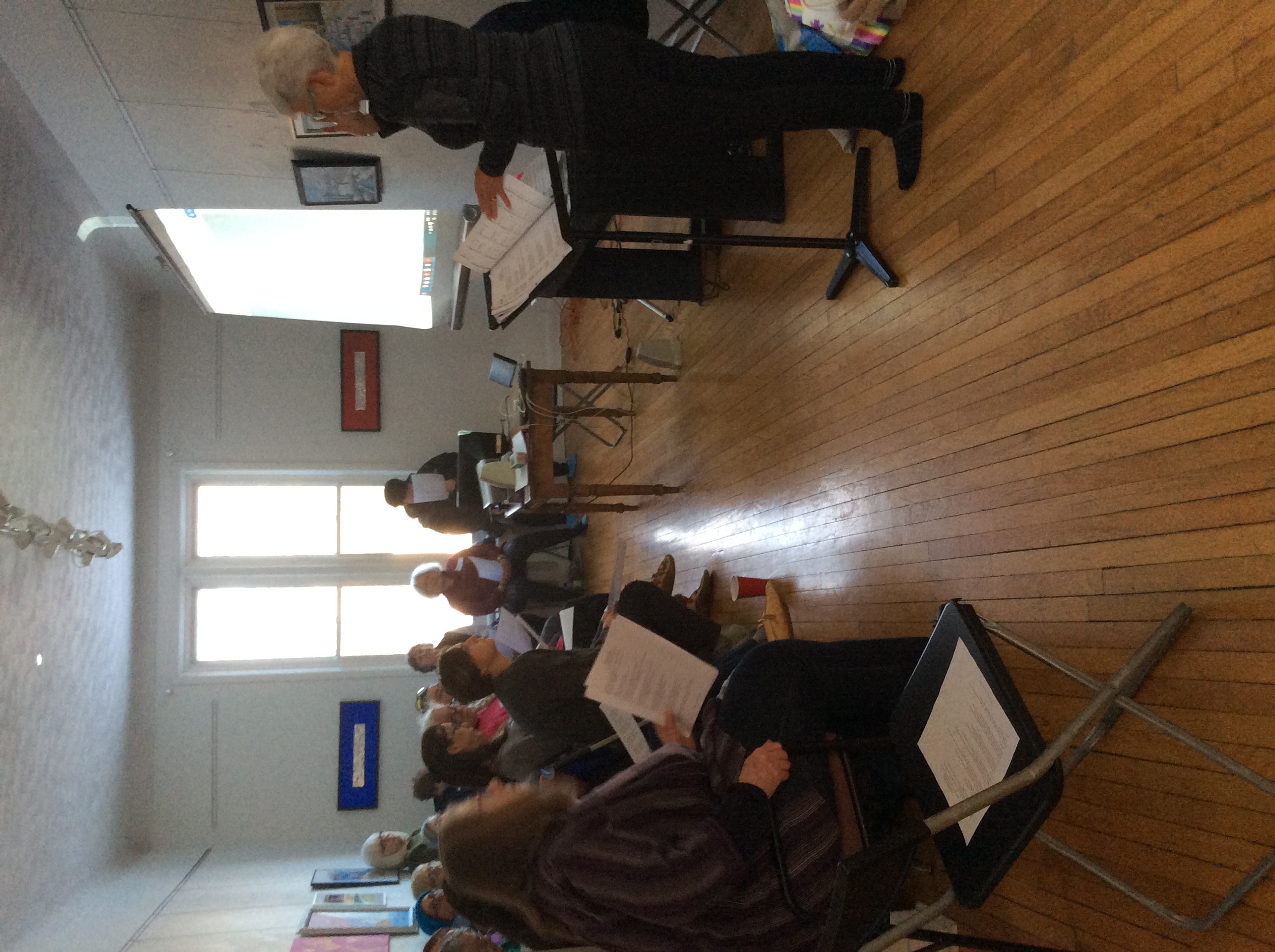 Louise Garrow
is Anishnaabekwe from Sagamok First Nations. She works on Anishnaabemowi Louise Garrow is Anishnaabekwe from Sagamok First Nations. She works on Anishnaabemowin Language, translation and teaching. Currently she teaches Introductory Anishnaabemowin at Wabano Centre for Aboriginal Health. She is the No Borders Community Voices Grandmother and shares cultural teachings and knowledge related to the song cycle as part of each rehearsal. Previously Louise worked in the federal public service total of 27 years; including First Nations Inuit Health Branch on women and children, health, mental health and wellness; Indigenous student employment, Indigenous cultural competency. She also worked at Trent University, Indigenous Studies for 9 years working as curriculum co-ordinator and Native Student Counsellor.
Beverley McKiver
is an Ottawa-based pianist, teacher and composer. In 2019, she was commissioned by Jumblies Theatre and Soundstreams in Toronto to write a song cycle for community choir based on stories about residential school by three elders from Treaty 3 in Northwestern Ontario. The work, along with Melody McKiver's string quartet based on the same material, was presented at Toronto's Harbourfront. For the Ottawa production of Odaabaanag Beverley has worked with the No Borders Community Voices not only as composer, but also accompanies, shares cultural knowledge and helps steer the choir and the production. She brings the songs to life with her extensive knowledge of the Lac Seul area. One of Beverley's most recent works, the "Canadian Floral Emblems Suite", was funded by the Canada Council's Digital Originals program in 2020. She performed these works in an online concert series and released a CD of the suite in May 2021. It was also adapted for performance on the Peace Tower Carillion in spring/summer 2021.
Musical Director

Christine (Chris) Peacock is an Ottawa-based health care practitioner, who is also passionate about music. During her 20 years as a trumpet player she played with the National Capital Band, and HMCS Carleton Navy Reserves Band for 12 years, for the last several years as Assistant Conductor. She has been the Musical Director of In Harmony, A Women's Choir since 1994 (with a five-year break), performing regularly over the past 30 years and collaborating with other local choirs in the city to perform as guests at each others' concerts. She felt honoured to be asked, in 2019, to be the Music Director for the Community Voices Choir to perform the Odaabaanoag song cycle in Ottawa and has been fully involved in rehearsals since then, graciously shifting to online rehearsals following our brief in-person experience in January 2020.

Carmel Whittle

is a Mi'kmaw/Nfld Irish cultural community artist, independent film maker, and musician/songwriter. She is the program coordinator of theThunderbird Sisters Collective, a mentor and workshop leader with diverse artistic communities, a member of the NBCVoices steering committee and is also a soloist with the choir. She coordinates and curates the No Borders Art Festival that aims to reduce barriers to achieving artistic goals for novice, emerging and professional artists, performers and cultural representatives from 2SLGBTQ+, immigrant, refugee, multicultural and Black, Indigenous, People of Color (BIPOC) communities. Recent projects include co-creating and directing Podcast#83, and films including Bringing The Land To The City.
About NBCV
Following the Jumblies Theatre Arts and Soundstreams production of Odaabaanag in Toronto, composer Beverley McKiver approached coordinator Carmel Whittle of the No Borders Art Festival in Ottawa to see if there was interest in hosting the performance of one of the songs in the upcoming No Borders Art Festival, 2020. In January 2020 a call out for singers from diverse Indigenous and non-Indigenous communities and musical backgrounds led to the formation of the No Borders Community Voices (NBCVoices). Ottawa choir director Chris Peacock (In Harmony Women's Choir) agreed to lead the choir, joining the steering committee that includes Grandmother Louise Garrow, Beverley, Carmel, and Just Voices Activist Choir members Marian de Vries and Patricia Reynolds.

Two short months and two rehearsals later, like many choral groups, NBCVoices moved online to continue rehearsing throughout the next two years. An essential part of our rehearsal process has included the cultural teachings by Grandmother Louise and Beverley, flowing from the songs which deeply reflect the Residential School experiences and knowledge of Lac Seul Elders Garnet Angeconeb, Josephine King, and Tom Chisel.

No Borders Community Voices strives to be diverse, inclusive, welcoming of all abilities, respectful of all genders, participatory, and equal/non hierarchical. The Odaabaanaag project goal is not to produce perfect sound but to be the best we can and to absorb the meanings and spirit of reconciliation. Our values are based in the 7 Grandfather Teachings: respect, honesty, truth, love, wisdom, humility and bravery. It is about the sharing of experiences and furthering education and understanding by amplifying voices to get the stories out.

Jumblies Theatre Arts has been a valued collaborator in the enterprise of bringing the Odaabaanag song cycle to this performance. As the original conceiver and producer of this project, Artistic Director Ruth Howard has helped the choir and the production with audio and visual materials, connections to technical crew and musical personnel, and funding opportunities. No Borders Community Voices have been the grateful beneficiaries of her mentoring.

Together Jumblies, Debaser, Shhh Ensemble and No Borders Art Festival, have brought the wealth of experience and support required to bring Odaabaanag to Ottawa. No Borders Community Voices choir is grateful to have had this opportunity to participate in this musical experience here in the Nation's capital.