Saturday, December 10, 2022
2:00 - 7:00 pm
Arts Court Atelier and Courtroom (2 Daly Ave), Levels 2
Gathering cultural leaders and emergent voices to offer new ideas, alternative models, and radical approaches in the music industry, contemporary art and performance practices.

FREE to attend. Registration required.


Thank you to our producing partners at the Ottawa Music Industry Coalition, and to our funders and supporters: Ontario Creates, City of Ottawa, Arts Court, Ottawa Fringe, and Kilam Media.
SPEAKERS AND FACILITATORS:

Andi Vicente
Ceréna
City Fidelia
Eman Safadi
James Goddard
Méchant Vaporwave
PROGRAM:
**CURRENTLY FULL** Register for the waiting list

Performance Masterclass
Time: 14:00-16:00
Location: Atelier
Facilitated by

Ceréna





This masterclass led by JUNO-nominated experimental dance-pop artist Ceréna will explore authenticity, vulnerability and self-awareness in an interactive session that invites participants to step up to the mic and workshop their performance techniques. This session will also engage participants in discussions around self-preservation, overcoming barriers, and the importance of community.





Presented by the Ottawa Music Industry Coalition, with thanks to Ontario Creates and the City of Ottawa.
Panel: Brave New Models
Time: 16:00-17:30
Location: Courtroom
Panelists: City Fidelia (Real House of Ensemble), Méchant Vaporwave (Backxwash, Eman Safadi (Cartel Madras, FOREIGNERZ), James Goddard (moderator)

Hear from artists and creatives who are developing new models, creating spaces, and bringing up the new guard in the music industry. This discussion will explore alternative models for artists and arts entrepreneurs, focusing on creators whose vision reaches beyond musical creation to engage in community impact, collective working, and social change.



Presented by the Ottawa Music Industry Coalition, with thanks to Ontario Creates and the City of Ottawa.
The Last Two Minutes: AI image generating workshop
Time: 17:00-19:00
Location: Atelier
Facilitated by Andi Vicente



Named after journalist Maria Ressa's recent McGill University Beatty Lecture, where she implored a sense of urgency in this rapidly shifting world, this workshop led by visual artist Andi Vicente explores intersectional representation and possible futurisms through the use of AI tools. If these are the last two minutes of the world as we know it, how do we act, what do we save, who do we hold, and what do we imagine beyond it?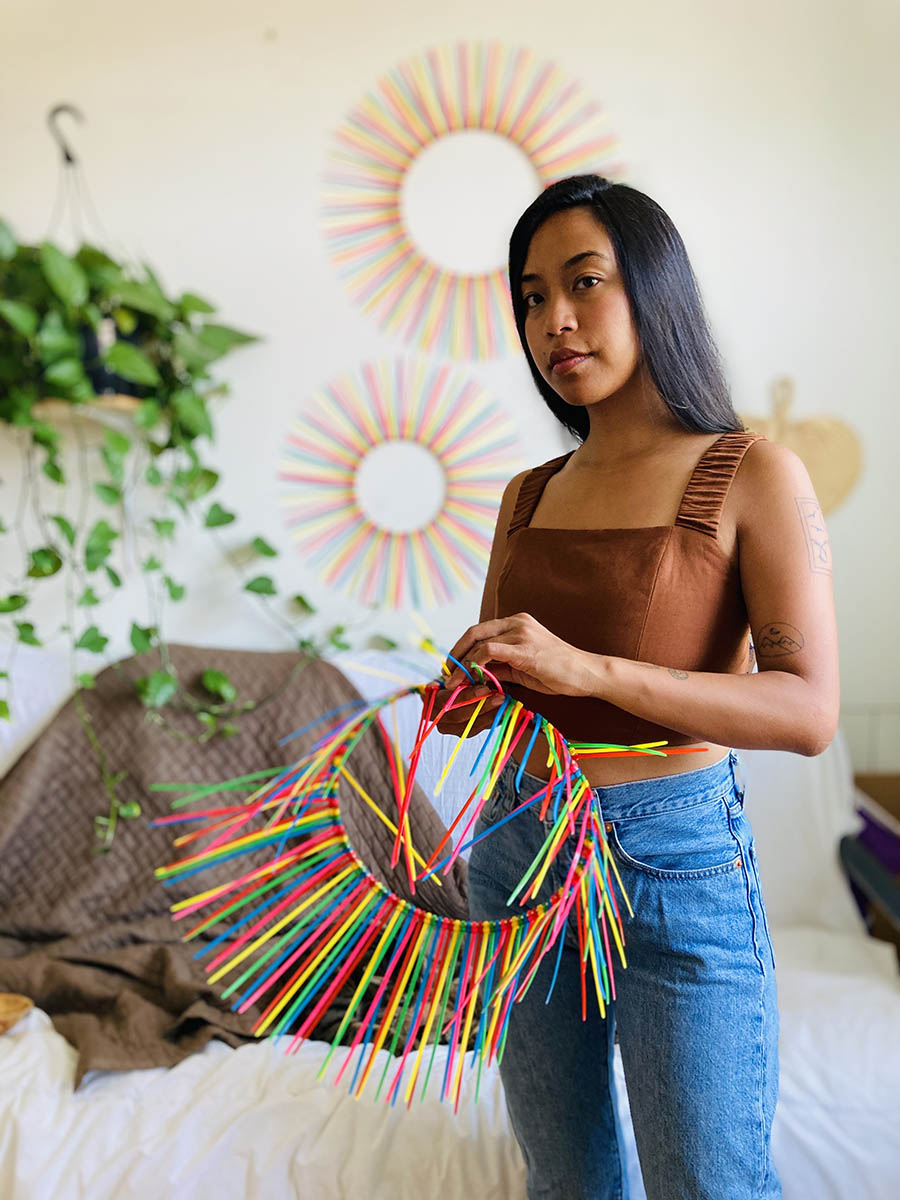 Andi Vicente
they/them
@andivice

Andi is a visual artist currently based in Tiotià:ke/Montreal. Through installation and digital collage, they've explored intersectional identities, precarious livelihoods and the juxtaposition of movements. Andi aims to broaden an understanding of oppressed experiences and encourage collective empowerment through the answering of the questions "Who is not here with us and how can I be there for you?"
Ceréna
she/her
@
cerena.world
Ceréna is a JUNO nominated experimental dance-pop artist from Toronto, Canada. Ceréna's primarily self-produced debut album resurrection (2021) features hits "see", "hearts on fire" and "gender euphoria." The album serves to be a reclamation of herself, elaborating on favoured themes of freedom, community, love and unity. She also pays tribute to her Latinx heritage with tracks like "pa'fuera", and "cielito lindo", pushing conventional pop to new boundaries.
Ceréna's debut album launched off the platform and community she co-founded via Club Quarantine (2020), a digital dance party that supports and uplifts QTBIPOC artists. Club Q has seen international acclaim and hosted Lady Gaga, Tinashe, Laverne Cox, and Tove Lo to name a few. Beyond her thrilling vocal chops, Ceréna often flexes her dance skills as part of the Kiki House of Siriano ballroom community.
City Fidelia
he/him
@
cityfidelia
Luigi Fidelia (March 10, 1990) known professionally as City Fidelia, is a Canadian rapper, community builder, and entrepreneur emerging from Ottawa, Ontario. Having performed at sold-out shows in North America, Asia, and Europe, City Fidelia often considers himself as an artist from a small city with big dreams. He has previously collaborated and gained recognition from artists like Malik Yusef of G.O.O.D Music, Timbaland, and Vic Mensa.

Also known for his entrepreneurship, Fidelia founded the Real House Of Ensemble, which he along with partners Stan Lukoki, the head of the agency, Abe Abadi and his brother Jeff Sanon in 2020. He also started a program director position at the CHUO radio station in January 2021 and has provided jobs to a large number of BIPOC individuals in the city.

From the age of nine, Fidelia's mother was a strong support for kids in their community by bailing them out of jail and providing a space for the young homeless to stay. Fidelia credits these actions for inspiring him to become a community builder with an entrepreneurial spirit.
Eman Safadi
she/her
@sansfuccs

Eman Safadi's (she/her) professional experience spans continents and sectors, including artist management, film production and fund development. As the daughter of Palestinian and Moroccan immigrants, she is the co-founder of both SANSFUCCS artist's collective and FOREIGNERZ, a full service art and production house focussed on pushing the boundaries of film, music, art and culture. Their team is comprised of multidisciplinary artists who are working to create visionary films, campaigns, installations, visuals and music video production with a focus on uncovering new narratives in Canada and beyond. FOREIGNERZ prioritizes QTBIPOC voices and their vision aims to amplify these narratives through innovative and strategic production.
James Goddard
he/him
@
skin0tone
James Nicholas Dumile Goddard is an Ndebele-Canadian artist and arts administrator. Goddard's solo performance work incorporates saxophone, voice and electronics; it explores issues related to blackness, the canon, and the future. His multi-disciplinary work has been showcased at music festivals and included in gallery shows. Goddard also performs in a variety of experimental ensembles including notably Platitudes, Egyptian Cotton Arkestra & NYON. As an administrator Goddard has worked for Pop Montreal, Cinema Politica, Artscast and Suoni Per Il Popolo - his work with the latter two during the pandemic has focused on creating live-streaming

magic.In

September 2021 Goddard became Director of Suoni Per Il Popolo.
Méchant Vaporwave
they/them
@
mechant_vaporwave
Chachi (they/them) aka Méchant Vaporwave is a Creative Director and Artist Manager with a strong background in communications. Chachi is a multidisciplinary designer with 11 years of experience working with agencies, activists, artists, non-profits, and small businesses. They began collaborating with Backxwash on visuals in 2019, and have primarily worked as her Creative Director and Artist Manager since 2021. As part of their practice, they advocate for and offer free consultation for marginalized artists starting out in design and music. Their goal is to do work and make art that is self-actualizing, and to support other artists in doing the same.